Customization
Organic shapes can be an integral part of your illuminated designs. Available in static white, tunable white, RGBW, and RGB pixel controlled, the TLS LumiCloud™ has the lighting solution you require
Designed, manufactured, assembled and shipped from our facilities in Montreal, Canada, our simplistic design enhances architectural illumination and improves room acoustics. Whether your design requires recessed, suspended or surface mounted panels, TLS LumiCloud™ has a turnkey solution.
Shapes & Dimensions
Our unique patented lighting system allows for any shape and size designed for your LumiCloud™ Bespoke. Whether you need a wall-mounted wave-like shape, a long and continuous lighting line above a corridor that turns corners, or a simple circle covering a large surface, we can make it happen.
Diffusers
The LumiCloud™ Bespoke can be used with our foil or textile diffusers (LightFoil, LightTexSilent, LightTexNC) or can backlight a multitude of different diffusers and materials while still rendering uniform lighting.
LightFoil
Our LightFoil, a translucent diffuser, is available seamlessly at 16 feet wide by an entire football field. Installed using heat stretch, then inserted into our LumiCloud™ Bespoke frame with limited sagging, creating a glass finish.
LightTexSilent
LightTexSilent is a textile to diffuse light evenly and provides high acoustic properties of (NRC>0.8) absorbing ambient sound. It is cold stretch installed, making it easy to set up and maintain. For safety, it has a class B fire rating and is also PVC-free. Office space, discrete waiting rooms, and other spaces can benefit from the LightTexSilent sound absorption.
LightTexNC
Our LightTexNC diffuser is a Non-Combustible textile with a class A fire rating, preventing melting damages in case of a fire, and is PVC-free. This diffuser is ideal for projects where safety is a factor.
Mounting Options
Four mounting options are available with your LumiCloud™ Bespoke. Suspended, surface mounted, recessed and, T-Bar mounted. T-Bar is one of the most demanded options in public spaces and requires different mounting skills and knowledge. In terms of recess, we can align it flush to the ceiling height, or further in, or even have it set at a (semi-recessed) height in-between surface mounted and flush ceiling.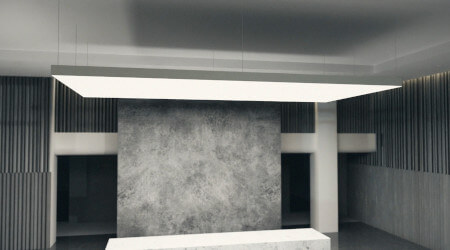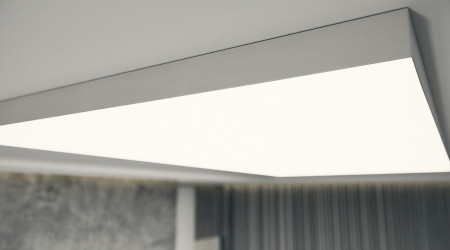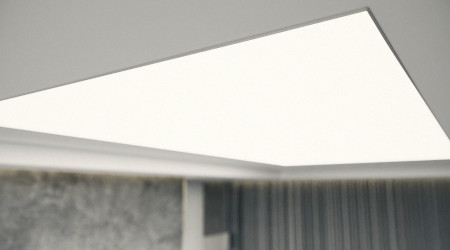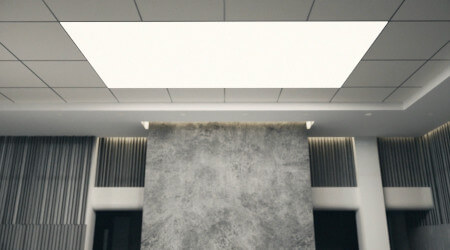 Lighting Engines
Which Lighting Engine to select for your LumiCloud™ Bespoke?
Discover the four lighting effects that can power your LumiCloud™.
Environment Integration
Our LumiCloud™ Bespoke, like our other TLS products, can integrate obstacles that need to pass through..
For example, sprinklers, speakers, air conditioning systems, projectors, etc. without any alteration to the look and uniformity.

Uniform lighting
The TLS offers uniform lighting, avoiding hotspots.


Light weight systems
At 70 grams per square foot, the TLS systems requires no special reinforcements.

Substrate free system
The TLS offers simple point-to-point substrate free tensioning up to 500 lbs for optimal uniform lighting.

Custom Board Spacing
Depending on diffuser material, setback and lumen output requirements, the TLS is optimized by customizing the pitch between LED boards.

Acoustic flow through
The TLS LumiCloud™ acoustical media diffuser absorbs reverberations coupled with a porous LED system to improve room acoustics.

Obstacle insertion
Since no mounting substrate is required the TLS can maneuver around obstacle in place.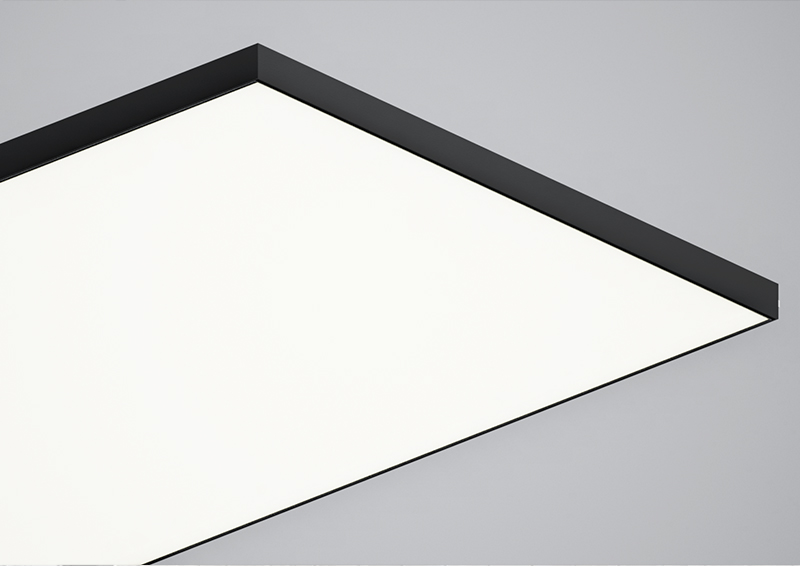 LED boards surround the edges of your lit surface with our ELS, illuminating the entire area seamlessly and provides a cost efficient option for your lighting needs. Ideal for smaller areas or shelving applications.
Learn More
Our double-layered Silicone Edge Graphic prints allow for a 3D effect to be created with static images. Our custom frame is designed to accommodate both Silicone Edge Graphic prints and places them millimetres apart. The award-winning Tension LED System backlights your images with even illumination. All of these components come together to create a stunning 3D effect.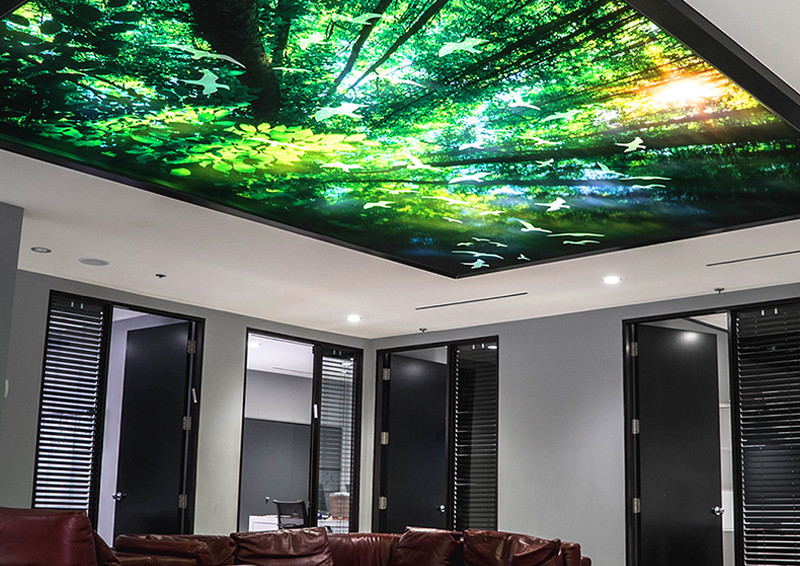 Bespoke Spec Code Generator
Want to spec TLS in your project? Simply choose your options from the drop down menus below
SPEC CODE
TLS
-
LC
-
BE
-
AS
-
-
-
-
-
-
-
-
-
-
-
-
-
-
-
-
DESCRIPTION
Frame - Framless Square Corner
Output - Standard (536 lm/sqf)
SPEC CODE
TLS
-
LC
-
BE
-
SL
-
-
-
-
-
-
-
-
-
-
-
-
-
-
-
-
DESCRIPTION
Frame - Framless Square Corner
Output - Standard (536 lm/sqf)
SPEC CODE
TLS
-
LC
-
BE
-
AU
-
-
-
-
-
-
-
-
-
-
-
-
-
-
-
-
DESCRIPTION
Frame - Framless Square Corner
Output - Standard (344 lm/sqf)
SPEC CODE
TLS
-
LC
-
BE
-
VG
-
-
-
-
-
-
-
-
-
-
-
-
-
-
-
-
DESCRIPTION
Frame - Framless Square Corner
Output - Standard (360 lm/sqf)